You are here
Parent and Family Resources
Looking for...
information about the state tests?
information about a school or school district?
achievement results or homework help?
information about the school and district performance frameworks?
The resources listed here are selected to assist parents and students in their school-related needs.
For late-breaking news and announcements, be sure to sign up for news from the department's Communications Division.
What's New
2019 CMAS Score Reports
Last spring, third- through eighth-graders in Colorado took the Colorado Measures of Academic Success (CMAS) tests that are aligned to the Colorado Academic Standards. Colorado's ninth- and 10th-graders took the PSAT and 11th-graders took the SAT. Individual student scores for CMAS tests completed in April 2019 were provided to all school districts in June 2019 and hard copy student performance reports were received by school districts in July. School-, district and state-level scores are released at the August meeting of the State Board of Education.
2020 State Tests
This year's CMAS tests will be administered between April 6 and 24. Students in the third through eighth grade will take CMAS tests in English language arts and math. Students in the fifth, eighth and 11th grades will take the CMAS science tests. A sampling of students in the fourth and seventh grade will take the CMAS social studies tests. And students in the ninth and 10th grade will take the PSAT between April 14 and 16, and students in the 11th grade will take the SAT on April 14. Results are expected to be delivered to districts in July. The results are expected to be released publicly in mid-August.
---
2020 State Tests
PSAT & SAT in Colorado
Before taking the test

What you need to know on test day

2019 CMAS Score Reports
Find assessment results for your child's school or district

Results for all 178 school districts and approximately 1,800 schools will be made available on CDE's Colorado Measures of Academic Success webpage on Aug. 15, 2019.
Parent's Guide to Understanding the English Language Arts and Math Score Reports
How to use the test results to support your student
2018-19 Sample Score Report
---
School and District Accountability
Colorado READ Act Resources for Parents
The ability to read is perhaps the most important skill we can teach in school. The READ Act creates a system to identify students experiencing challenges with reading, to engage parents in the development of reading improvement plans and to provide quality support for those most at risk.
By challenging our state to move more students toward grade-level proficiency in reading, we believe collectively we can increase overall student achievement here in Colorado. Early student success is a roadmap to everyone's future success. It all begins with reading.
The Colorado Reading to Ensure Academic Development Act (Colorado READ Act) was passed by the Colorado legislature in 2012, giving the state the guiding philosophy, structure and resources to get children reading at grade level by the time they enter the fourth grade.
Learn more about the READ Act with this overview.
Frequently Asked Questions about the READ Act
READ Act Video - English:
READ Act Video - Español:
---
Key Facts About the Importance of Early Literacy
Graduation, college and career preparedness are more likely possibilities for students who master reading skills by fourth grade.
Reading to learn enables a student to comprehend facts in social studies and science, understand word problems in math and interpret increasingly complex concepts in language arts.
A student who misses the opportunity to learn to read proficiently before fourth grade almost never catches up.
According to the Annie. E. Casey Foundation, students who cannot read by the end of third grade are four times more likely to drop out of high school, and high school drop outs make up 75 percent of citizens receiving food stamps and 90 percent of the Americans on welfare.
How to Support Reading at Home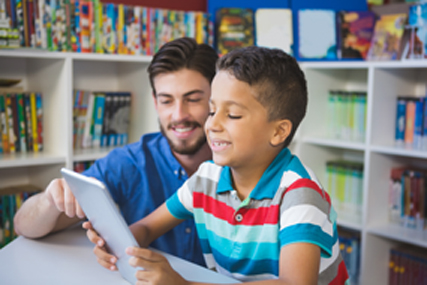 Be an Advocate: Keep informed about your child's progress in reading. Ask the teacher about ways to help.
Talk Often: The more words children hear, the better they will be at reading. Narrate your day. Talk about everything you and your child do throughout the day. Converse with your child over meal times and other times you are together. Introduce new and interesting words.
Read Together: Read books together, spend time talking about the stories, pictures and words. Listen to audiobooks. Ask your child questions about the content. What was the subject, what did they like or not like about the book?
Be an Example: Children learn from the habits of those around them. Read, write, listen to audiobooks and show your child the benefits of both.
Visit the Library: Story times, special events, books, magazines, computer access, homework help and other exciting opportunities and activities await the entire family at your local library.
Talking to your Child's Teacher About Reading Progress
If your child is At Level/On Target: If your child gets this designation from their school, it means your child is on track for meeting reading targets. You will want to ask your child's teacher about daily reading instruction. What does classroom instruction look like? What skills are they working on? What home activities can support instruction?
If your child is At Some Risk: If your child gets this designation from their school, it means he or she has some reading skills but not all of them. Supplemental supports are needed in addition to grade-level instruction to help get your child on track. You will want to ask your child's teacher about supplemental supports. What does classroom instruction look like? What skills are they working on? What skills should my child need to have supported? What types of home activities can support instruction?
If your child is At High Risk: If your child gets this designation from their school, it means he or she has limited or no reading skills. Intensive intervention is needed in addition to grade-level instruction to support your child to get on track. You will want to ask your child's teacher about the READ Act plan for your child and intervention services being provided. What does classroom instruction look like? What skills need to be supported for my child to be on track? What type of intervention services is being provided and how frequently? What types of home activities can support instruction?
For more information, see this Fact Sheet about the importance of early literacy and how to talk to your child's teachers about reading. 
External Resources
READ NOW Colorado
This parent-friendly website support families to better understand what the Colorado READ Act is and tips for supporting your child's literacy journey.
Tips for Cultivating Readers at Home
Just like adults, children learn best when they are involved and having fun! Check out ideas from the National Center for Families Learning. These guides share great ways cultivate your child's reading in a playful way from ages birth to 8. These tips can become part of your everyday routine and your child will learn without even realizing it!
Checklists for Literacy Ideas at Home P-3 Grade (PDF)
The National Institute for Literacy has developed age focused literacy ideas for home for parents of children in preschool through grade three who are getting ready or learning to read.
Partnering with Your Child's School
Literacy is the ability to read and write well. You and the school share responsibility for your child's language and literacy learning. Collaborate with your school to make decisions about your child's literacy education right from the start.
---
Other Information By Topic
Standards
Finding a School
Early Learning and School Readiness
Graduation and Postsecondary Readiness
English Language Development
Special Education
Gifted Education
Safety
Family and School Partnering
Councils and Committees
Other CDE Programs
Other Resources
More
Please Contact CDE with any questions or concerns.