About the Office of Special Education
This site/office is a resource to teachers, administrators, and parents of students with exceptional educational needs due to disability, or learners who are culturally and/or linguistically diverse or have some other special need. The Office of Special Education is one of three offices under the Exceptional Student Services Unit (along with the Office of Facility Schools and the Office of Gifted Education).
NOTE: The navigation buttons on the left have changed. Some of the buttons expand. Any buttons that have expanded menus, provide a breakdown of each subpage and what you will find on those pages.
What's New
Proposed ECEA Rule Amendments
The Colorado Department of Education is recommending changes to the Rules for the Administration of the Exceptional Children's Educational Act (ECEA). The proposed changes to the Rules include amendments required by Colorado House Bill 14-1208 which amends the definition of administrative unit to include "multi-district administrative unit"; amendments which replace expired rules related to temporary educator eligibility authorization; and, amendments required by House Bill 14-1102 related to gifted education. A draft of the proposed amendments can be found here: ECEA Rules proposed amenments 2015 (Revised 01/22/2015)

A Crosswalk that provides a visual matrix for the reference and understanding of rule provisions authorized in law can be found here:
The State Board of Education will hold a Rulemaking Hearing on the proposed changes:
When:
Wednesday, March 11, 2015 at 10:00 a.m.
Where:
State Board Room
Colorado Department of Education
201 E. Colfax, Denver Colorado 80203
Any interested persons may provide oral testimony at the hearing. Written comments may be submitted to the Office of the Colorado State Board of Education by end of business day Friday, February 27, 2015 by e-mail to state.board@cde.state.co.us or at the following address:
Office of the Colorado State Board of Education
201 E. Colfax Ave.
Denver, CO 80203
---
Funding Opportunity - Professional Development for Educators of Students with Disabilities: Literacy
The Exceptional Student Services Unit is pleased to announce the release of a Request for Proposals.  This competition is open to Administrative Units, districts, eligible facilities, or schools serving students with disabilities in any grades PreK-3 that wish to coordinate and develop local resources in order to provide professional development focused on instructional practices that will increase literacy achievement, improve academic results, and close the academic achievement gaps for all Colorado students, grades PreK-3 with disabilities. Grants will be between $10,000 and $25,000.
Requirements:
MUST SUPPORT the State Identified Measurable Result (SiMR) focus in the State Systemic Improvement Plan (SSIP)
Must Improve literacy achievment of students with disabilities in Pre-Kindergarten through 3rd Grade
NOTE:
Those administrative units (AUs) that are current recipients of the four IDEA-funded "Increasing Achievement and Growth Grants" are NOT eligible for this funding opportunity.
Important Dates:
Informational webinar on Wednesday, January 21st at 1:00 pm. [webinar link]
Applications are due Friday, February 13, 2015
---
Funding Opportunity - Indicator 14 Post School Outcomes Interviews Funds Request
Purpose:  The Colorado Department of Education requires school staff in Colorado school districts to conduct brief interviews with former students who left high school one year ago.  The purpose of the interview is to learn what former students (leavers) do after they leave high school.  This information is used to help schools improve programs for students with disabilities who are still in high school.
Requirements:
To be eligible to receive reimbursement through this funding opportunity, AUs
MUST Complete the application and
complete the interviews and data entry into the ESSU Data Management System.
Important Dates:  (For the full list of dates, see page 3 of the application)
Application training webinar foro eligible AUs on Thursday, March 12, 2015
Funding opportunity applications are due Friday, April 3, 2015
Mandatory post-award webinar for accepted AUs (completed by) Thursday, April 30, 2015
---
2014-2015 Colorado Instructional Accommodations Manual
The Colorado Instructional Accommodations Manual provides guidance for IEP Teams and educators, presents a Five-Step Process for the selection and implementation of instructional accommodations. It offers tools and suggestions for using technology for students with a disability to best access instructional context.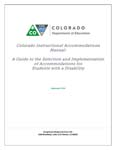 Most Popular Pages (December 2014)
Specific Learning Disabilities (SLD)
Programs and Services
IEP Forms
Speech or Language Impairment (SLI)

Disability Categories
If you have problems finding something and/or questions about our website, please contact our Web Coordinator and be sure to copy the URL into the email to reference the page with the problem.