The mathematics standards compel us to make mathematics relevant to students by moving beyond mere answer getting to doing the work of mathematicians. The standards emphasize the development of students' abilities to use mathematics to represent their lived experiences and to simplify and explain complex phenomena.
---
2009/2010 Mathematics Standards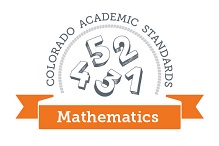 Understanding the Colorado Academic Standards in Mathematics
Curriculum Design Tools
Standards Graphic Organizers (This content has been archived.

Contact us

to request these files.)

Colorado's District Sample Curriculum Project
---
2020 Mathematics Standards
---
Implementation Support
CDE strongly recommends that schools and districts take a patient, planned approach to implementing the 2020 Colorado Academic Standards. The two-year transition period between the adoption of these standards in 2018 and their implementation in the 2020-2021 school year offers Colorado educators the opportunity to give standards implementation the full attention it deserves.
To assist in these efforts, the Office of Standards and Instructional support is providing a series of professional learning modules to help school leaders facilitate standards implementation efforts with their staffs. The first phase of modules focus on disciplinary and standards literacy and are available now. The second phase of modules will focus on curriculum and resource alignment and will be available in Spring 2019. The final phase of modules will be released in the Fall of 2019 and will connect the standards to instructional strategies.
---
Guides to the 2010 Mathematics Standards
In partnership with the Colorado PTA, family and community guides to the Colorado Academic Standards (in English and Spanish) were created to help families and communities across Colorado better understand the goals and outcomes of the 2009/2010 Colorado Academic Standards. The guides describe the "big picture" purpose of the standards, as roadmaps to help ensure that all Colorado students graduate ready for life, college, and careers. They also provide overviews of the learning expectations for each of the ten content areas of the standards and offer examples of educational experiences that students may engage in, and that families could support, during the school year.
---
For website assistance in Mathematics, please contact: