You are here
Professional Development (FASD)
Professional Development
Fetal Alcohol Spectrum Disorder (FASD) Overview Webinar
This was a previously recorded webinar training (April 2013). When the player is launched, it is recommended to click on the small gray arrow on the far left to close the "Events Index" window. Then use the bottom scroll bar (in the playback window) to scroll to the right so the image is centered and fully viewed. The file share box is available for the document downloads – there are 3 documents (they are also available via the links below).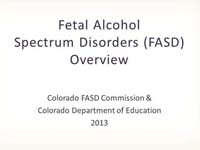 ---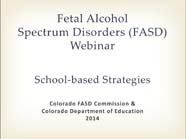 ---
8 Magic Keys - Video
Watch an animated educational video, developed by Anchorage School District, called "8 Magic Keys." Strategies are described by Deb Evensen and Jan Lutke, two highly respected experts in the field. The goal was to provide basic information as well as to demonstrate strategies that support students with FASD. This video addresses elementary, secondary school situations as well as family situations. It is helpful for parents and educators to understand what a child with FASD experiences on a daily basis in a variety of situations.
---
Challenging Behavior and Executive Function (for students with brain injury and other neurologically impacted disabilities) (Video Modules - 9 parts)
NOTE: This was a full day training and is intended to be watched in its entirety. These are not stand alone.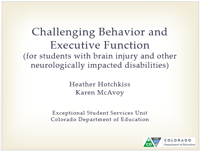 ---
Level 2 Brain Injury Training (Video Modules - 4 parts):
Eligibility and School-Based Inter-Disciplinary Assessment and Intervention: A Common Sense Approach

---
For more information, please contact:
Heather Hotchkiss
Phone: 303-866-6739
Email Heather Hotchkiss
---
Find what you were looking for?
If you have problems with broken links or accessing the content on this page, please contact our web content coordinator Amanda Timmerman at Timmerman_A@cde.state.co.us. Please copy the URL link for this page into the email when referencing the problem you are experiencing.