CDE will be closed on Monday, July 4 for the Independence Day holiday.
You are here
Understanding the Labor Market Landscape
By 2020, 74% of the jobs in Colorado will require some form of postsecondary education. This projection does not suggest that all jobs will require a 4 year college degree, but it does suggest a need for continuous learning and skill development beyond the secondary level. Even for students completing a college degree, additional skills are needed to meet the demands of the labor market. The Colorado Talent Pipeline Report provides an annual overview of the state of talent development in Colorado and includes information on in demand jobs and skills as well as recommendations for strengthening the talent pipeline.
---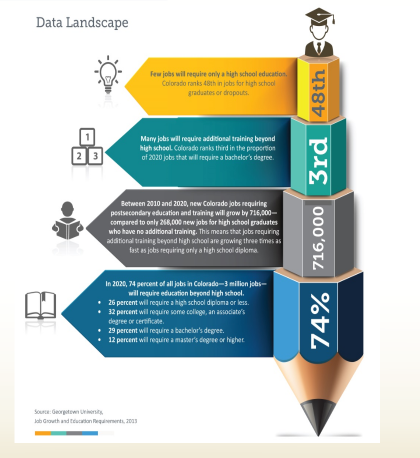 ---
Contact 
Janae Hunderman
Education Consultant, Colorado Workforce Development Council
720-892-7118
Janae.Hunderman@state.co.us