You are here
Career Development Incentive Program
2021-2022 Career Development Incentive Program Information Webinar
A webinar was held on December 1, 2021 covering SB21-119 and the changes coming to the Career Development Incentive Program.
---
Overview 
The Career Development Incentive Program, or Career Development Success Program Expansion in House Bill 18-1266, provides financial incentives for school districts and charter schools that encourage high school students, grades 9-12, to complete:
Tier 1: qualified industry credential programs; 
Tier 2: internships, residencies, construction pre-apprenticeship or construction apprenticeship programs or;
Tier 3: qualified Advanced Placement (AP) courses.
Participating districts or charter schools could receive up to $1,000 for each completed credential, distributed in tiered order. 
---
Application Process is Closed
The 2020-2021 Career Development Incentive Program (CDIP) application has closed. Awards will be announced in the fall of 2021.
---
What's New?
---
Request Industry Certification Inclusion
Please complete the form below if there is a program or industry certification that is not on the official Approved Programs List in the Talent Pipeline Report and there is sufficient evidence to demonstrate industry demand and credibility for the requested program/certification.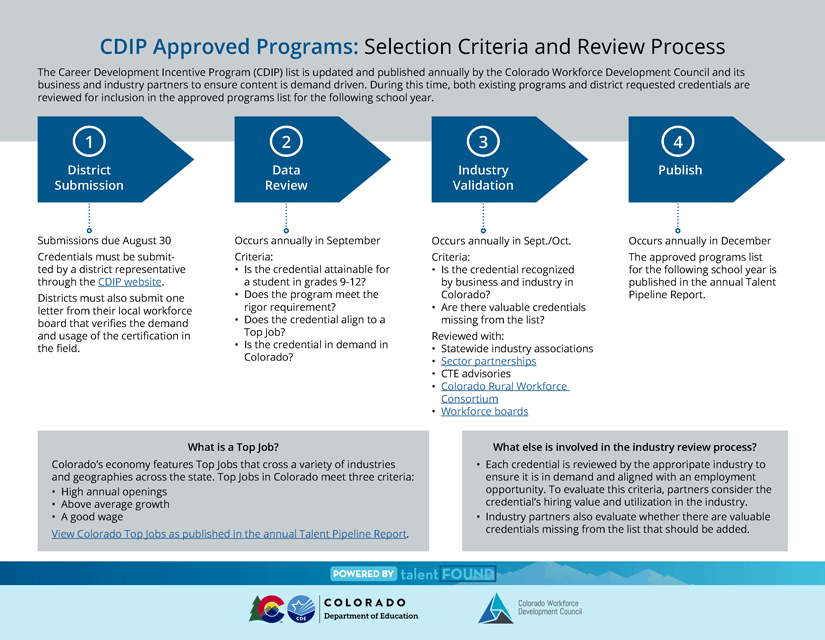 Internship Criteria
Internship Criteria PDF (with active links)
---
Career Development Incentive Program Guidelines and Resources 
Application Resources
Other Resources
---
Contact
Marina Kokotovic
Phone: 303-866-6267