CDE will be closed on Monday, Jan. 20 for the Martin Luther King, Jr. holiday.
You are here
Instructional Resources - Social Studies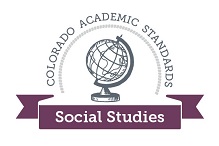 Teaching the Colorado Academic Standards in social studies is supported through a wide array of free instructional resources. This webpage lists just a few of these resources and will be updated regularly. If you are an educator in Colorado and have suggestions for a great free resource please email Stephanie Hartman.
The resources are organized by the following main topics: