You are here
Science Academic Standards
High expectations in education are essential for the U.S. to continue as a world leader in the 21st century. In order to be successful in postsecondary education, the workforce, and in life, students need a rigorous, age-appropriate set of standards that include finding and gathering information, critical thinking, and reasoning skills to evaluate information, and use information in social and cultural contexts. Students must learn to comprehend and process information, analyze and draw conclusions, and apply the results to everyday life.
In 2012, the National Research Council issued A Framework for K-12 Science Education (2012), establishing a vision for K-12 science education the encompasses a three-dimensional approach to science learning, noting: "[By] the end of 12th grade, all students have some appreciation of the beauty and wonder of science; possess sufficient knowledge of science and engineering to engage in public discussions on related issues; are careful consumers of scientific and technological information related to their everyday lives; are able to continue to learn about science outside school, and have the skills to enter careers of their choice, including (but not limited to) careers in science, engineering, and technology." 
The 2020 Colorado Academic Standards in science represent what all Colorado students should know and be able to do in science as a result of their preschool through twelfth-grade science education. Specific expectations are given for students who complete each grade from preschool through eighth grade and for high school. These standards outline the essential level of science content knowledge and the application of the skills needed by all Colorado citizens to participate productively in our increasingly global, information-driven society. To inform this process, the revision committee leveraged numerous resources, including, but not limited to A Framework for K-12 Science Education, released by the National Academies of Science in 2012. This publication synthesizes over 20 years of science education research and established the context for three-dimensional science standards that emphasizes a student-centered approach to science teaching and learning that integrates the practices, core ideas, and crosscutting concepts to support a high-quality science education that is inclusive and accessible for all Colorado students. 
2020 Colorado Academic Standards for Science- Implementation Timeline 
In 2018, CDE solicited feedback on the option to extend the implementation timeline only for the science standards.  As a result, full implementation of the science standards will take place in the 2021-22 school year. The Colorado Measures of Academic Success (CMAS) science assessments will transition to covering the 2020 CAS in science Spring 2022. To learn more about the CMAS science assessment, please email Molly Mund in CDE's Assessment Unit.  
---
2020 Science Standards
---
2009 Science Standards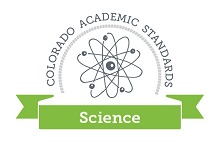 Understanding the 2009 Colorado Academic Standards in Science
2009 Curriculum Design Tools
---
For website assistance in Science, please contact
.