You are here
Reading, Writing, and Communicating
---
Reading, Writing, and Communicating Learning Modules
The modules on this page were designed in response to requests from educators regarding guidance and resources for social emotional learning, culturally responsive education, and accelerated learning to support them in teaching English language arts within our state education system. The goal of each module is to provide information and evidenced-based practices that leads to students gaining the knowledge needed to become proficient in the content, concepts, and skills within the Colorado Academic Standards for Reading, Writing, and Communicating, as they progress towards postsecondary readiness. 
CDE Position Statement: RWC Standards & English Language Learners 
The Colorado Academic Standards in Reading, Writing, and Communicating were written for all students using the content, concepts, skills, and language conventions and structures found within the English language. This does not mean students must be native English speakers, nor fluent English proficient, but by utilizing the Colorado English Language Proficiency standards (Office of Culturally and Linguistically Diverse Education) in tandem with the Colorado Academic Standards, qualified and well prepared educators can ensure that all English learners receive appropriate support to ensure all students successfully meet the expectations in the standards.
---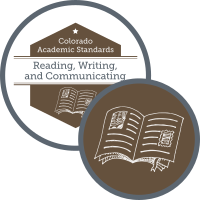 Academic Standards
The reading, writing, and communicating standards invite students to use texts to better understand others' experiences in the world and to command language in order to articulate their own perspective on the human experience. The standards intentionally reflect the read-write connection and the relationship between critically consuming text to build knowledge and producing texts to convey knowledge.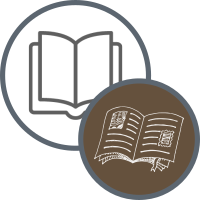 Curriculum Support
Article IX, Section 16 of Colorado's constitution states, "Neither the general assembly nor the state board of education shall have power to prescribe textbooks to be used in the public schools." However, CDE can still serve as an advisor to help districts and schools adopt, adapt, develop, or use the materials of their choice.
Instructional Support
Instructional support is grounded in CDE's shared approach to Best, First Instruction as well as practices and strategies supported by professional organizations and scholars at the leading edge of reading, writing, and communicating education.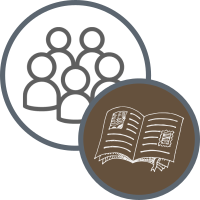 Community
There are many opportunities to connect and grow as a professional educator with the larger reading, writing, and communicating education community, including mail lists, professional organizations, and events.
---
Important News, Announcements, and Updates 
READ Act Evaluation Year One Report
During the 2019 legislative session the Colorado READ Act was amended to require the Department to contract with an independent evaluator to provide independent evaluations of the use of per-pupil intervention money and money received through the Early Literacy Grant program by local education providers and to determine whether the student outcomes achieved are meeting the intent of the law. 
West Ed, as the independent evaluator will present summary results to the field on the independent evaluation. CDE Staff will also provide a brief update on state and district implementation of provisions of Senate Bill 19-199. Information and links to the reports will be made available after this meeting.  For more information on the West Ed's review please visit the READ Act Implementation Evaluation webpage.
Setting the Standard Webinar Series
An ongoing webinar series will be facilitated by CDE and national experts in the areas of interventions, equity, social emotional learning and math. Webinars will be held the first Wednesday of each month at 3:30 p.m. Visit the Setting the Standard Webinar Series webpage for more information. The first webinar will be held Wednesday, Sept. 1, and will focus on Impactful Intervention: Meeting Students Where They Are & Getting Them to Mastery. 
For questions, contact Chris Summers at summers_c@cde.state.co.us.
PAEMST 2021 Awards – Nominations and applications open  
The Presidential Awards for Excellence in Mathematics and Science Teaching (PAEMST) are the highest honors bestowed by the U.S. government specifically for K-12 science, technology, engineering, mathematics and/or computer science teaching. 
Principals, teachers, parents, students or members of the general public may nominate exceptional Colorado STEM teachers who are currently teaching grades K-6 for the 2019-20 award year. Eligible teachers may also apply directly on the PAEMST website.
The nomination deadline is March 1, 2022, and the application deadline will be in May 2022.
Contact Maya Garcia at garcia_maya@cde.state.co.us with questions.
On-Demand Professional Development Opportunities
The Office of Standards and Instructional Support has compiled several on-demand learning opportunities for educators. Visit the on-demand library on the CDE website
Research and Practice Guides for Teaching Mathematics
Two new CDE research and practice guides have been posted in addition to the popular word problems guide posted a couple of years ago. Also, the Institution of Education Sciences has updated its guide on assisting students struggling with mathematics. Access these materials and more on the Research and Practice Guides for Teaching Mathematics webpage.

For questions about mathematics, contact Raymond Johnson at johnson_r@cde.state.co.us 
High Impact Instructional Strategies for the Social Studies Classroom Modules 
These modules represent a few high impact instructional strategies for the social studies classroom. Access the modules via the CDE Professional Development Tool.

For more information, contact Stephanie Hartman at hartman_s@cde.state.co.us.
Computer Science Education Grant Program extension
The Colorado Computer Science Education Grant Program application window has been extended. The application process will now conclude on Friday, Sept. 10, and awards will be distributed for use during the 2021-22 school year. This includes the Computer Science Teacher Education Grant, which provides funds for K-12 computer science teacher professional development, and the Computer Science Education Grant, which provides funding with the purpose of increasing enrollment and participation of traditionally underrepresented students in computer science education activities.
High Impact Instructional Strategies in Health Education
Each module in the High Impact Instructional Strategies for Health Education course supports a comprehensive way to support educators teaching health education. The goal of health education is for students to gain knowledge and become proficient in skills that will help them adopt and maintain healthy lives. 

For questions, contact Jamie Hurley at hurley_j@cde.state.co.us

For more information, and to check for updates, visit the Computer Science webpage or contact Chris Summers at summers_c@cde.state.co.us.
---
For further assistance, please contact:
---
---