You are here
Child Find and Preschool Special Education
COVID-19 and Preschool Through 3rd Grade Education
CDE's Preschool Through 3rd Grade Office has gathered resources to help answer questions regarding the COVID-19 pandemic as it relates to our early learners in Preschool Through 3rd Grade during the Stay-At-Home orders and the suspension of in-person learning. The Opening of School 2020-21 resources were prepared as a supplement to the CDE 20-21 School Year Toolkit.
Child Find
Every school district or Board of Cooperative Educational Services (BOCES) has professionals trained to evaluate young children's development including cognitive functioning, motor skills, hearing and vision, speech and language and social emotional development. This service is referred to as Child Find.
The purpose of the child find process is to determine whether a child has a need for early intervention or special education services.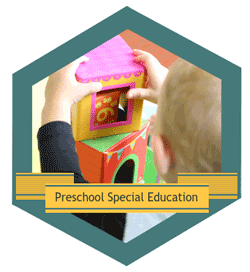 Preschool Special Education
Preschool special education is a state and federal mandated program for three- and four-year-old children who meet state eligibility criteria for special education and are experiencing challenges in their learning and development. A child is eligible if they have a significant delay in one or more areas of development, such as learning, speaking or playing.
Eligible children are entitled to a free appropriate public education in the least restrictive environment. This means that the required preschool services are to be provided in an inclusive setting at no cost to parents.