You are here
Commissioner's Teacher Cabinet
About the Commissioner's Teacher Cabinet
The Commissioner's Teacher Cabinet is an opportunity for Colorado teachers to share their hands-on classroom knowledge. This advisory group is made up of 22 practicing teachers from around the state representing small, medium, large, rural, suburban and urban school systems.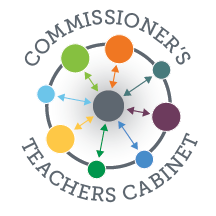 Role of Teacher Cabinet Members:
Serve as a sounding board for the implementation of state education policy.
Brainstorm solutions for some of the challenges facing today's educators, such as raising achievement among all students, supporting low-performing schools and increasing the number of individuals joining the teaching profession.
Application open for new members
The Education Commissioner's Teacher Cabinet is seeking 12 new members. To be considered for a cabinet position, candidates must complete an online application by the extended deadline of Tuesday, Jan. 31. 
Complete each step below to be considered:
 
Download and review the instructions and planning document (DOC).
This version of the application is intended as a reference document for instructions and application planning purpose only. It also lists the requirements for applicants.
 
Submit your application using the online Smartsheet form.
The online system does not save progress so applicants may wish to complete their information in the above document and copy responses into the online application. Please ensure all required uploads are completed and ready to be attached when you begin the online form.
 
Check your inbox.
Candidates will be informed of their application status by Friday, Feb. 17. 
For questions or assistance, email teachercabinet@cde.state.co.us.
---
2022 Commissioner's Teacher Cabinet Members
Teacher cabinet members listed alphabetically by last name:
Emily Adams - English language arts and social studies teacher, Adventure Elementary, Mapleton Public Schools
Tina Barber-Matthew – Social studies teacher, Clear Creek High School, Clear Creek School District
Angelina Barela – Second grade teacher, Roosevelt Charter Academy, Colorado Springs School District 11
Michael Bautista – Career and technical education teacher, Boulder Technical Education Center, Boulder Valley School District
Kenneth Benson – Social studies and personal finance literacy teacher, Niwot High School, St. Vrain Valley School District
Emma Copeland –  Special education teacher, Strasburg Elementary School, Strasburg School District
Linda Donaldson – Former mathematics teacher (now principal), Skoglund Middle School, Center Consolidated School District 26JT
James Flinn – Culturally and linguistically diverse education teacher, Pikes Peak Elementary, Harrison School District 2
Bonnie Grover – English language arts teacher, Avery Parsons Elementary School, Buena Vista School District
Scott Hicks – Social studies teacher, East Grand Middle School, East Grand School District
Tegan Lewis – Lead K-2 teacher and exceptional services administrator, Battle Rock Charter School, Re-1 Montezuma Cortez
Andrea Malouff – K-2 reading interventionist, Alamosa Elementary School, Alamosa School District
Jennifer McLoud – English language arts teacher, Highland Middle School, Weld Re-9 School District
Emily Muellenberg – Social studies teacher, Highlands Ranch High School, Douglas Country School District
Gerardo Muñoz (2021 Colorado Teacher of the Year) – Social studies teacher, Denver Center for International Studies, Denver Public Schools
Carina Raetz – English as a second language teacher, Academy International Elementary School, Academy School District 20
Autumn Rivera (2022 Colorado Teacher of the Year) –  Science teacher, Glenwood Springs Middle School, Roaring Fork School District
Julie Sale – Dean of Academics, Colorado Early Colleges
Lacey Taschdjian – Mathematics teacher, Adams City Middle School, Adams County School District 14
Baochau Thomas – Mathematics teacher, Horizon Community Middle School, Cherry Creek School District 5
Sarah Tilton – English language arts and English second language teacher, Trivista at Horace Mann Elementary, Denver Public Schools
Hilary Wimmer (2020 Colorado Teacher of the Year) –  Assistant director of career and technical education and postsecondary workforce readiness, Adams 12 Five Star Schools
The Colorado Teacher of the Year has an automatic position on the cabinet.
New members will be added to the Commissioner's Teacher Cabinet in February 2023.