You are here
ICAP Summit
District and School ICAP Teams gathered for the first ICAP Summit, December 3, 2014
Educators urged to strengthen their Individual Career and Academic Plan (ICAP) Practice with Stakeholder Buy-In and Student Ownership of ICAP
More than 550 school leaders, counselors, teachers, and students came together on Wednesday, December 3, 2014 to hear from experts, school counselors, teachers, and students about how ICAP has impacted their lives, and in what ways they can strengthen the ICAP process across the state.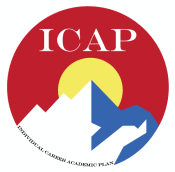 Dr Scott Solberg, Associate Dean for Research at Boston University's School of Education and Professor in the Department of Counseling and Human Development, provided a research-based context for ICAP, and talked about the importance of the process:
"ICAPs create a personalized learning environment in which youth develop higher career aspirations and build better relational connections. They select a more rigorous set of courses, and they begin seeking work-based learning opportunities that allow them to further explore their career interests and postsecondary pathways. The ICAP helps us all – students, educators, and parents - understand how the world works. It's the meta-cognitive map of how education leverages quality of life outcomes."
---
CDE Releases Copy of ICAP Toolkit
Educators learn about the history and context of ICAP, how it is connected to other state initiatives, where to find promising practices, and what implementation tools and resources are available.
ICAP Definition - Refreshed
ICAP is a multi-year process that intentionally guides students and families in the exploration of career, academic and postsecondary opportunities. With the support of adults, students develop the awareness, knowledge, attitudes, and skills to create their own meaningful and powerful pathways to be career and college ready.
---
School administrators, counselors, and CDE partners talk about ICAP in their schools and districts
Katrina Ruggles, School Counselor from Center High School in the San Luis Valley, told the audience about a culture shift in her school district.
"ICAP has been transformative for our school district. We have moved from believing that we need to create opportunities for students to engage in post-secondary education to an expectation that ALL students in our district will graduate with a post-secondary career plan. We have engaged all staff in our building in this process, creating a culture where students know they have resources and support to reach personal career goals. ICAP is the right thing to do for our students, and we have embraced it as a way to demonstrate the relevance for our students of what we teach every day to future academic and career goals."
---
ICAP Implementation- Next Steps
In an effort to support districts and schools across Colorado in further implementing ICAP, CDE and our partners will offer trainings, and will continue to update promising practices on the website.
Regional trainings across Colorado will begin in February with facilitators trained in your local community. Facilitators are volunteers from nearly all regions, including:
Colorado Springs
Denver Metro
Grand Valley
Mountain Corridor
Northeast & Eastern Plains
Poudre
San Juan Valley
San Luis Valley
Southern Colorado
Uncompahgre
Western Slope
Yampa Valley
Training time and topics will focus on hands-on implementation strategies that address what is already working in schools and districts like yours. In addition to ICAP, special attention will be given to discussions about how programs intersect with Colorado's Postsecondary and Workforce Ready goals. Specific dates and locations will be announced through the CDE Scoop and Update in early February.
Post your Promising ICAP Practices on the CDE website
Share your Action Plans, Goals and Process Maps, your communication tools, your curricula, student work, or other practices.
Email Robin Russel for more information: Russel_R@cde.state.co.us