You are here
Civil Rights

Child Nutrition program operators and sponsors must follow all civil rights regulations to ensure all eligible persons receive program benefits in a non-discriminatory manner. Civil rights are the nonpolitical rights of citizens; the rights of personal liberty guaranteed to U.S. citizens by the 13th and 14th amendments to the U.S. Constitution and acts of Congress.
Civil Rights Training
Training Guides
Training Resources
Training Videos and Webinars
This recorded webinar covers the civil rights requirements in the Child Nutrition programs and satisfies the annual civil rights training requirements.
---
Non-Discrimination Statement & And Justice for All Poster
Nondiscrimination Statement
And Justice For All Poster
*Note: Sponsors may print and post the current And Justice for All Poster until new posters are distributed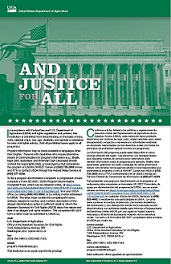 ---
Civil Rights Complaints
---
Summer Food Service Program Civil Rights
The following resources are only applicable to the Summer Food Service Program.
---
Special Dietary Needs
USDA's non-discrimination regulation (7 CFR 15b) and the regulations governing NSLP and the School Breakfast Program mandate that substitutions to the regular meal must be made for children who are unable to eat school meals because of their disabilities when that need is certified by a licensed physician.
Overview information:
What School Employees Need to Know:
Medical Statement Forms
Letters to Parents