CDE will be closed on Monday, July 4 for the Independence Day holiday.
You are here
Accountability, Performance and Support
Update on Accountability for 2022-2023:
State accountability. State accountability in 2022 is currently being shaped  through state legislation and State Board of Education rules process.
Accountability Statute for 2022.   The "Transition Back to Standard K-12 Accountability" bill (SB 22-137) was introduced in the Senate on February 16, 2022 and was signed by the Governor on April 13, 2022. The legislation requires the department to calculate frameworks in 2022-23, but suspends automatic advancement on the accountability clock. The percentage of students contributing to the growth indicator is added to the framework for informational purposes. The request to reconsider process will be offered and can be used to exit performance watch (i.e., move to "on watch," exit the clock fully) if meeting certain conditions (e.g., Improvement plan type or higher, 90% total participation on state assessments). 
Federal accountability. The U.S. Department of Education (ED) has invited State Educational Agencies (SEAs) to submit an addendum to modify their approved ESEA consolidated State plans for the 2021-2022 school year, in order to identify schools for support and improvement in fall 2022.  The proposed changes and feedback on these changes can be accessed here.
Link to common questions for accountability this year
Link to announcements regarding school and district accountability
Overview
Colorado's system of school and district accountability is primarily designed to provide valid and actionable information regarding the progress of all students toward meeting the state academic standards and prioritize support for schools and districts identified for academic improvements.CDE's School Quality and Support Division (formerly Accountability, Performance, and Support) is comprised of the offices of Accountability & Data Analysis, Unified Improvement Planning, School and District Support and Schools of Choice. Together, these offices support Colorado's schools and school districts throughout the cycle of continuous improvement.

Latest Accountability Communications: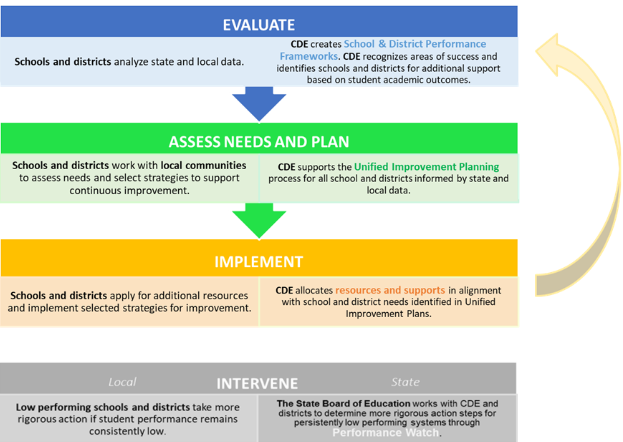 ---
Contact Us
For more information, please contact accountability@cde.state.co.us.