You are here
Instructional Strategies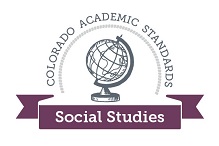 The resources provided on this website are intended to provide a quick access list for educators to use in a way that supports their instructional planning. Provided resources should be previewed and used with teacher discretion. Because this page contains resources outside of the CDE website, CDE cannot control changes in outside content and listing these resources does not indicate an endorsement by the Colorado Department of Education. 
---
ReadingQuest: Making Sense in Social Studies
A website designed for social studies teachings who wish to more effectively engage their students with the content in their classes. The website is designed to provide philosophical bases for sound comprehension strategy instruction, directions for a range of comprehension and content reading strategies, and printable handouts and masters for transparencies.
Reading Like a Historian
This site offers numerous inquiry based lessons in both U.S. and world history.  Each lesson revolves around a central historical question and features sets of primary documents designed for groups of students with diverse reading skills and abilities.
LDC Toolkit
The Literacy Design Collaborative (LDC) offers a research based approach to incorporating literacy into all areas of content in grades K-12 by providing a common framework that facilitates teacher creativity and builds literacy skills across content areas.
How to Use Primary Sources
Library of Congress (LOC) - The tools and strategies for using primary sources in the classroom; includes lesson plans and worksheets.
How to Use Primary Sources
The National Archives & Records Administration (NARA) – In addition to the millions of documents housed at NARA, they also provide worksheets and an overview of the process for analyzing all types of primary sources including maps, photographs, letters, documents, etc.  There is also a great description of documents analysis on NARA's DocsTeach website.
FreeTech4Teachers
This site is maintained and consistently updated by a former high school social studies teacher. Richard Byrne (the teacher) created this site specifically with the intent to share free digital resources that teachers can use in their classroom.  Use the term "social studies" in the search box to find lots of great digital resources for teaching social studies.