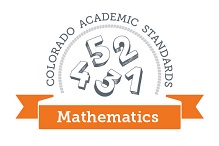 Teaching the Colorado Academic Standards in mathematics is supported through a wide array of free instructional resources. This webpage lists just a few of these resources and will be updated regularly. If you are an educator in Colorado and have suggestions for a great free resource please email Raymond Johnson.
This page is organized by the following topics:
---
Understanding the Colorado Academic Standards for Mathematics
The Illustrative Mathematics Project connects mathematical tasks to each of the standards. Bill McCallum, a lead writer of the Common Core State Standards, helped create the site to show the range and types of mathematical work the standards are designed to foster in students.
The Arizona Academic Content Standards contain explanations and examples for each of the standards created by teachers with the help of Bill McCallum, a lead writer of the Common Core State Standards.
Achieve the Core is the website for the organization Student Achievement Partners (SAP) founded by David Coleman and Jason Zimba, two of the lead writers of the Common Core State Standards. The website shares free, open-source resources to support Common Core implementation at the classroom, district, and state level. The steal these tools link includes information on the key instructional shifts for math and guidance for focusing math instruction.
---
Curricular Resources for the Colorado Academic Standards for Mathematics
The Model Content Frameworks from Partnership for Assessment of Readiness for College and Careers (PARCC) were developed through a state-led process of content experts in PARCC member states and members of the Common Core State Standards writing team. The Model Content Frameworks are designed help curriculum developers and teachers as they work to implement the standards in their states and districts.
The What Works Clearinghouse (WWC) has released a new Practice Guide: Teaching Math to Young Children. From naming shapes to counting, many children show an interest in math before they enter a classroom. Teachers can build on this curiosity with five recommendations from the WWC in this practice guide. The guide is geared toward teachers, administrators, and other educators who want to build a strong foundation for later math learning.
---
Learning Progressions in the Colorado Academic Standards for Mathematics
The Common Core State Standards were built on mathematical progressions. This website provides links to narrative documents describing the progression of a mathematical topic across a number of grade levels, informed both by research on children's cognitive development and by the logical structure of mathematics.
---
Differentiating the Colorado Academic Standards for Mathematics
---
STEM Education is:
"An interdisciplinary approach to learning where rigorous academic concepts are coupled with real-world lessons as students apply science, technology, engineering and mathematics in context that make connections between school, community, work, and the global enterprise, enabling the development of STEM literacy and with it the ability to compete in the new economy."
- Tsupros, Kohler, & Hallinen, 2009
View Colorado's STEM Education Roadmap
For website assistance in mathematics, please contact Raymond Johnson.