State Board of Education Members
Members of the Colorado State Board of Education are charged by the Colorado Constitution with the general supervision of the public schools. They have numerous powers and duties specified in state law. Individuals are elected on a partisan basis to serve six-year terms without pay.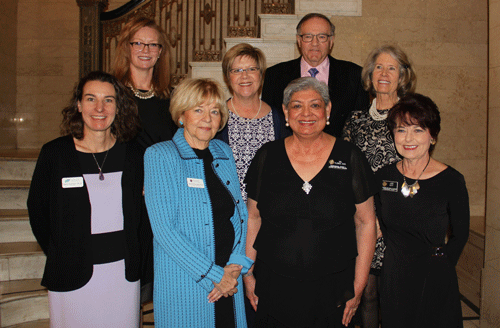 Bottom row, left to right:
Katy Anthes, Ph.D.


Commissioner of Education




Secretary to the Board of Education

Angelika Schroeder (D)
2nd Congressional District
Boulder
Valentina (Val) Flores (D)
1st Congressional District
Denver
Jane Goff (D)
7th Congressional District
Arvada
Not pictured:
Elizabeth (Bizy) Cordial, Director of State Board Relations
---
Background
In 1948, the Colorado State Constitution was amended to authorize an elected State Board of Education to provide general supervision of public schools, with powers and duties described throughout Title 22 of the the Colorado Revised Statutes. The first Colorado State Board of Education was elected in November 1950, and began its work in January 1951.
Today's State Board of Education is composed of seven elected officials representing Colorado's congressional districts. Board members serve without pay for six-year terms. Every other year, the State Board elects a chairman and vice-chairman from its own membership; the Commissioner of Education acts as non-voting secretary to the Board.
Announcements
---
Board Meetings
Listen Live! is only available during scheduled meeting dates and times.
December 2016 Meeting
---
2017 Meeting Dates